GeoEngineering Graduate Student Association at Berkeley
---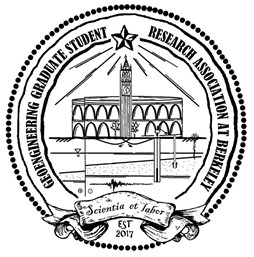 The main objective of the GeoEngineering Graduate Student Association at Berkeley is to provide GeoSystems graduate students, postdoctoral and visiting researchers with:
an executive/steering committee to coordinate the activities of the abovementioned students,

a forum to share technical details of ongoing research,

a platform for constructive peer review and support, and

to promote student collaboration, outreach, and social interaction.
CalLink: https://callink.berkeley.edu/organization/geoengineering
Contact us here: geoengineering@berkeley.edu
Leadership Committee: Bodhinanda Chandra, Camilo Pinilla Ramos, Xinyi Qian, Brittany Russo, Drew Gomberg
Events
The 5th annual GeoSymposium will be held from 1 pm - 5:30 pm on November 12, 2021 at Banatao Auditorium in Sutardja Dai Hall at UC Berkeley. This symposium showcases current research conducted in the GeoSystems Engineering group at UC Berkeley. All are welcome to attend.
To register: GeoSymposium Tickets