Tor L. Brekke Award
---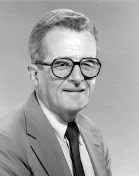 Professor Tor L. Brekke (1934-2009) was born in Kristiansand in southern Norway. He graduated with the degree of Sivilingeniør (MSc) in Mining Engineering from Norwegian Institute of Technology in Trondheim in 1958, and a Ph.D. in Geological Engineering from the same institute in 1963. He started his academic and industry career as a Research Fellow at the Norwegian Institute of Technology in 1960. In 1967 he spent a sabbatical year in Berkeley, which led to his being invited to join the faculty in the Department of Civil Engineering as an Associate Professor of Geological Engineering in 1970. 
Through his research and work in the industry Prof. Brekke developed an international reputation as an expert on tunneling and tunneling technology. He provided expertise as a consultant and board member on numerous challenging projects including hydroelectric power plants, dams, highways, railroads, and mining projects is notable. Besides his native Norway, his international work included work in Canada, Sweden, Germany, Brazil, Columbia, Peru, Venezuela, Jamaica, South Korea, Japan, China, Indonesia, New Zealand, Tanzania, and New Guinea. In the United States, Prof. Brekke was involved on projects in California, Oregon, Washington, Arizona, Utah, Nevada, Colorado, Texas, Ohio, New York, New Jersey, Massachusetts, Pennsylvania, Maryland, Washington DC, and Hawaii. He also served on various committees of professional organizations including a stint as the Chair of the U.S. National Committee on Tunneling Technology. He authored or co-authored over 85 publications. 
To generations of students, affectionately known as "Uncle Tor", he was an outgoing, always sympathetic, mentor on all aspects of their education and life in general. His excellence as a teacher was well known and the UC Berkeley student chapters of ASCE and Chi Epsilon voted him the Outstanding Faculty of the Year 1971. In 2008 he was the recipient of the Outstanding Educator of the Year Award, presented by the United States Underground Construction Industry. His professional and research accomplishments were recognized by his election to the Royal Swedish Academy of Engineering Sciences in 1977; Honorary Fellow of the Geological Society of America in 1978; Honorary Member of the Geotechnical Society of Colombia in 1978; and Member of the Norwegian Academy of Technical Sciences in 1982. With his wife Joyce he enjoyed life and was a devoted Cal booster never missing an opportunity to attend a football game.
Award Recipients